It's always a good time for our
irresistible desserts
Order and treat yourself!
Eat. Drink. Indulge. Repeat.
Get Desserted is known for its experimental and innovative creations in desserts, using finest ingredients to deliver the best taste and quality.
We sell an extensive range of ice creams, waffles, pancakes, brownies, shakes, and coffees. We have expanded our portfolio of desserts to include a range of health conscious products such as sorbets, yogurts, and smoothies. We were one of the first in the country to introduce vegan desserts. Our waffles and brownies are the best-selling products and we deliver our brownies across the country.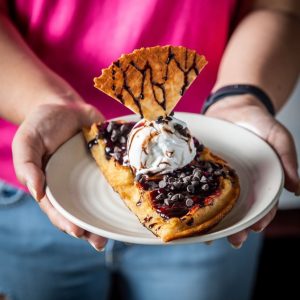 Get Desserted believes in maximum customer satisfaction by providing highly customisable and wide variety of products to suit every taste and age group.
The softest and most delicious brownies I have had in Chandigarh. Oozed chocolate and simply melted in my mouth. Cant wait to order more
This is a v good place for desserts in sector 8 chd , i loved their waffle and mango sorbet..This is a small place with big taste.. Also the ingredients seemed to be very fresh.. NUTELLA BROWNIE IS A MUST TRY!
Taste-This place offers mouthwatering shakes, waffles, Brownies and many more. Their brownies, shakes are my all time favorite try once i promise will your favorites too. I am not a huge fan of waffles but in love with @getdesserted waffles. Carmel hot fudge was cheery on the cake every spoon was melting in mouth and loved that
The simplicity of our operating model allows people with little or no experience in the food business to succeed as entrepreneurs, thus investing much lesser amounts and reaping far more attractive returns than most of our peer brands.